Plan Your Adventure Today!
Let us help make your next boating and/or fishing adventure great! Choose from one of our options below. If you have any questions,  CONTACT US.
Inshore
These trips are inshore flats and bays and up to three miles from the beach. You can choose either a half day trip or a full day adventure!
Details & Booking Info
Offshore
Looking to go out further? This is the trip for you. Going offshore is perfect for fishing, diving, or just getting away to enjoy the views.
Details & Booking Info
Custom Trip
Looking for something different? You can choose from a variety of options including a mixture of inshore and offshore adventures.
Details & Booking Info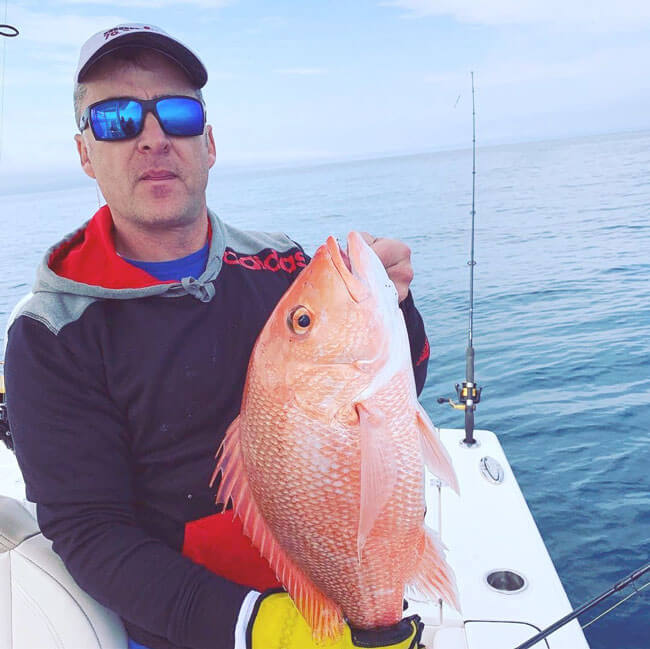 About Captain Richard
Captain Surber was born and raised in St. Petersburg, Florida. He grew up on flat bottomed shrimp boats and Jon boats. His school bus would pick up in front of his house which was attached to a bait shop. Down2Fish was born out of the nostalgic experiences growing up on Tampa Bay.
Learn More
Book a Charter Now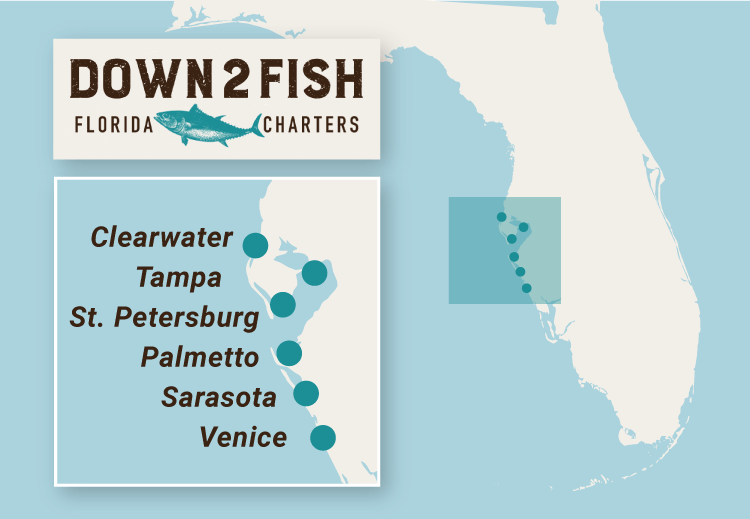 Locations
Our charters range in location around Tampa and it's surrounding areas. Whether you're looking to fish, snorkel, see the sights, or just get away, we can help you make the most out of your trip!
Palmetto

St. Petersburg

Sarasota
Contact Us
We had a fantastic trip! It was everything that they said it was. Beautiful sunrise fastrip out to the fishing grounds and lots of big fish. Highly recommended

Ken Manser
19:36 28 Oct 21
Fished with Captain Richard on July 30th and had an awesome trip. We limited out on Red Grouper at the first spot and they were all bigger fish. Moved spots once and limited out on Red Snapper. Caught a big Scamp Grouper and a few other bonus fish including a small dolphin. It was an awesome trip and we will definitely be booking with Down 2 Fish in the future. Captain Richard was able to accommodate us super late notice after 2 of our other trips got canceled due to weather. Both him and his deckhand are super personable and know how to put people on fish and provide their customers with an awesome time. If your looking to have an awesome charter fishing trip don't hesitate to call Down 2 Fish.

Ben Lebuhn
01:59 09 Aug 21
Captain Rich and Craig were great! Caught a ton of fish and they both went above and beyond. Highly recommended!

Pasquale Lavorante
23:41 18 Jul 21
Our day was amazing! Richard took us out 60 miles offshore. We explored an area on a hunch of his and caught two big grouper. We then went cruising to a few of his marked areas and we caught more fish than I know what to do with! Richard and his deck mate Craig were super knowledgeable, skilled, and great company. I couldn't recommend this company more!

Andy England
02:21 18 Jul 21
Great fishing! Limited out on red snapper and grouper. Captain Richard knows where to find fish and how to catch them. The boat is clean, well equipped and comfortable for 60 mile off-shore trips.

Barb Solow
23:36 05 Jul 21
Best day ever! Definitely a bucket list/lifetime experience! Capt. Richard is awesome! He and his first mate were very attentive and hands on, they both made sure our experience was comfortable and productive. And the boat was absolutely beautiful, comfortable and fast! He took us to the BEST fishing spots, I caught the biggest red snapper I had ever seen in my life!! Can't wait to do it again!!

L Micciche
12:52 27 Jun 21
Cannot recommend Captain Richard and Down2Fish Charters enough! 5/5 stars!!!! Extremely knowledgeable, kind, and fun! His vessel is the nicest in the area and makes getting to all the spots a breeze! He put us on fish all day long, and we were able to limit out on Red Snapper and Red Grouper! Cannot wait to be back on the water with Down2Fish

Zach David
23:14 24 Jun 21
I had the opportunity to fish with Captain Richard this past weekend and was extremely pleased with the outcome. We caught our limit of grouper and landed red snapper and multiple other species of fish. I was most impressed with Captain Richard's demeanor with my son and his friends. Capt. Richard was friendly, patient and shared many lessons-learned of fishing in the Gulf over his lifetime. It was very educational trip which all enjoyed. We all had fun on the trip and my freezer is now stocked with my favorite fish to eat! Capt. Richard's boat is amazing. It has all of the latest technology and is comfortable for five people fishing. We never felt crowded on the boat. Overall it was the best charter trip experience I have had and I have done many. I highly recommend Capt. Richard and Down2Fish charters.

Michael Perriello
15:13 14 Jun 21
Had a great time. The captain knows his stuff. The mates were very knowledgeable as well. Limited out on red snapper, caught some grouper, and a tuna. Caught several Mahi Mahi and some mingos. Would highly recommend these guys if you wanna catch some fish. Once again had an amazing trip.

Captain Richard and First Mate Barry were amazing. This was the first charter trip for my 11 and 12 year old sons. Both were amazing with the boys and made sure they kept catching fish. We limited out on grouper, which was the purpose of the trip. His boat is practically brand new and has plenty of seating. This makes the trip out to the fish grounds very comfortable. We will definitely be calling Captain Richard again for our charters.

We had a great time fishing offshore with Richard and Roy. We caught a variety of fish, with some nice keeper size Red and Gag Grouper. I would recommend using them for your offshore fishing experience. Plus, the 30' Robalo is an awesome boat with a state-of-art Garmin GPS and fish locater. It will get out 30+ miles in good time.

Scott Kohler
15:27 30 Nov 20
Had a complete awesome time with this crew. Brought my 2 boys with me 15 and 10 and these guys treated my boys like their own. Got us on some serious red snapper and a couple of other species. Was able to knock a couple off the list. We will definitely be back with more business and promote these guys. Well worth the money!

David Disel
22:57 30 Jul 20
Spent 4th of July offshore with Richard and first mate, Barry. We caught plenty of fish, and even fought a shark for our tuna! They were very helpful and made sure my 13 year old enjoyed himself.Great day on the water.

Robert Baker
21:07 04 Jul 20
Awesome Saturday out on the water with Down2Fish Charters and Captain Richard. Traveled overall 38 miles out. Fishing over ship reefs for bait and then on to the sweet spots. He put us on grouper, tuna, trigger fish and more. Could not have asked for a better first time deep water fishing trip. The 30 foot Ropalo was just the right size for us. Once back to the dock he clean and bagged the fish we caught. Father's Day Sunday was even better with fresh tuna sushi, and grilled and Toasted Sesame seed seared tuna. Eddie and I definitely will be back! Thanks - Richard for a memorable weekend-

Cindy Pearce
19:27 23 Jun 20
This guy can fish offshore and inshore every time I go we put fish in the boat.He has two very nice rabalo boats one 30 ft for offshore and one 24ft for inshore.

Took my dad fishing for the day with captain richard and Barry, great time! Boat was nice, they knew some really good spots to fish and were very experienced, hooked a stingray, shark, snook, etc! Loved the experience, worth every penny.

Tyler Bryant
02:57 20 Jun 20
We had an awesome experience with captain Richard! We got on some Great snook and good tasting mangrove snapper.

Dr. Henry Jones
14:10 31 May 20
What a perfect day! My husband and I booked a "Fun Run" trip, which included fishing and snorkeling, and it is the best fishing trip I've ever taken. We caught at least 50 white bait fish and then caught yellow jack and snapper with them! We then went snorkeling near World War 2 cannon ruins and saw countless schools of fish and crabs. Captain Richard is knowledgeable, personable, and very accommodating; he even cleaned our fish for us. The boat also has a good sound system and bathroom! I can't wait to go again.

T.L. Anderson
01:04 21 May 20
We'd love to hear from you whether you have questions, feedback, or just want to say hi.